Introducing the latest Office Chair from the Ergohuman Chair Range, the Genidia Office Chair is a new concept office/posture chair with cutting edge aesthetics, breakthrough bonding design and interactive sitting posture engineering.
Its twisted structure optimises strength, allowing it to create a consistent thin edge throughout the entire frame. A custom integrated mechanism offers many areas of adjustment without disrupting the chair's flow.
Also available with the Genidia is a 'Sitting Posture Warning Device' which can help users to correct their sitting posture, allowing them to be seated in a healthier way. After turning on the device, if the user has an incorrect sitting posture more than a minute, the device will be activated to alert the user.
Embracing the most innovative technology and materials and state-of-the-art Design, Research and Development have pushed the boundaries in task seating to unprecedented levels. The Genidia concept is a highly designed chair with revolutionary technology unique to the task seating industry.
Offering streamlined elegance and the perfect balance of form and function, Genidia delivers superior comfort and flexibility, ergonomic support and adjust-ability to all users. This, in harmony with the exceptional dynamic movement, creates a healthier workforce, improved productivity and overall workplace wellbeing.
Features:
Sitting Posture Warning Device add-on is also available
Mesh is made from elastomeric polyester mesh
Seat frame and headrest is made of nylon
Back frame is made of a combination of nylon and TPR
4D armrest is made from plastic, aluminium, metal and polyurethane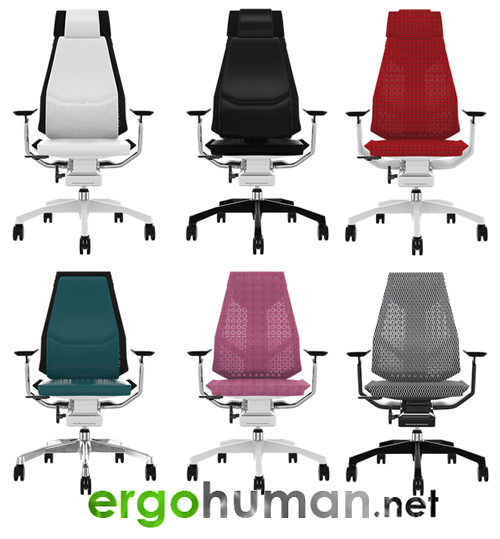 Call Ergohuman.net